Tensile/Shear Performance
The riveted joint must withstand the tensile and shear loads, and consequently based on the evaluated load requirements the blind rivets needs to be selected.


Recommended Grip Range
These blind rivets are engineered and designed for specific range of materials thickness for which it will be effective. The recommended thickness range over which the body length will consistently provide a good setting are provided in the technical chart.

Material compatibility
When riveting material such as wood or plastic ie. Soft material together or with a metal sheet and using open end blind rivets ,attention needs to be given to ensure the pieces are fastened together properly. The below pictures illustrates recommend guidelines for either using a large flange blind rivets or a Steel washer.

Edge Distance
A distance of two times the rivet head diameter (D2) or more from the rivet center to the end of the work piece is recommended to avoid material fracture.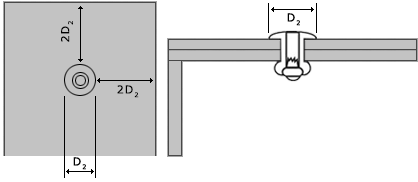 Hole Size
The recommended hole diameter which which should be burr free is advise on Blind rivets technical data sheet, creating either over sized holes or smaller holes will affect the quality of the riveted joints.

Gap Fastening
Blind Rivets are widely used in assembling extruded sections because of the limited access and clearances involved. As shown in (A), avoid setting against unsupported internal sections, which results in poor rigidity. Select (B) to insure reliability.

Riveter Nosepiece Selection
Based on the size of the Blind rivets the Nosepieces needs to be selected, each nosepieces is best used for a specific blind rivet.